Prof. Melissa Haendel will discuss "Making translational science go faster, better, together by harmonizing data" on April 17. She is a Professor with the Department of Medical Informatics and Clinical Epidemiology at the School of Medicine, Oregon Health & Science University.   
The University of Toronto's Master of Science in Applied Computing (MScAC) program is  launching two new academic concentrations: Artificial Intelligence in Healthcare and Data Science for Biology.
We recently hosted Dr. Peter Lee, Corporate Vice President, Research and Incubations, with Microsoft. He will discuss the emergence of general AI for medicine. 

Although the event has passed, you can view Dr. Lee's talk on YouTube.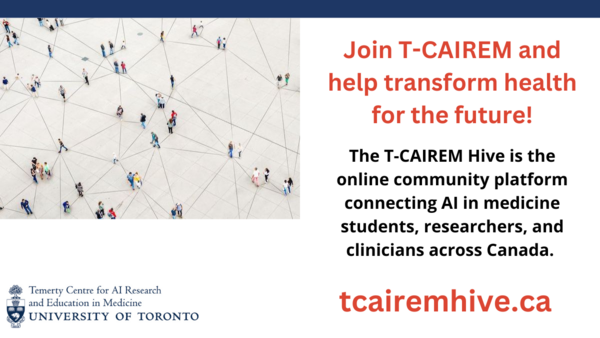 Join the T-CAIREM Hive
The T-CAIREM Hive is the online community platform connecting AI in medicine students, researchers, and clinicians across Canada. (To see if you're eligible to join, visit the T-CAIREM Network page.)