Call for Student Researchers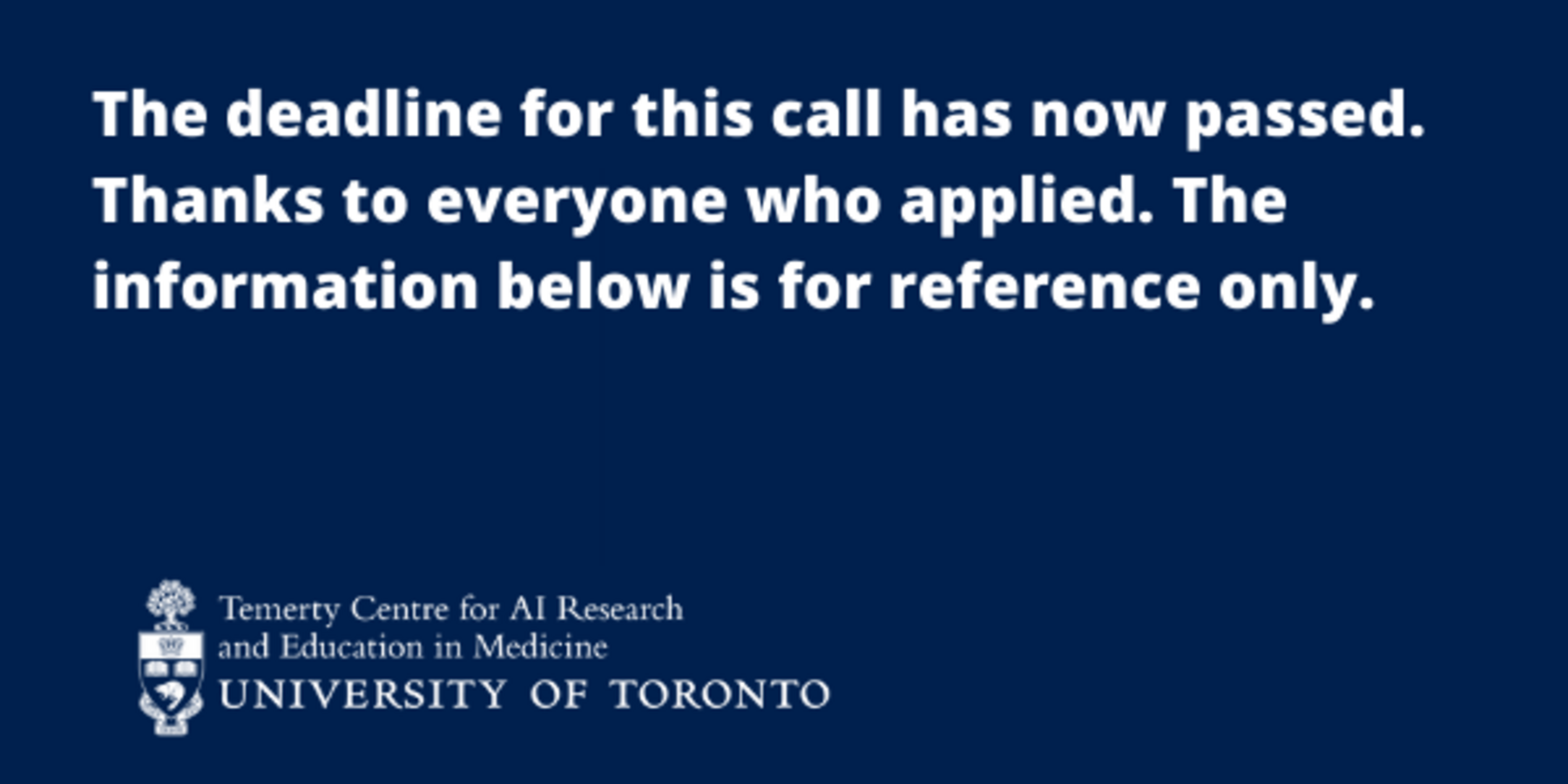 2022 T-CAIREM AI in Medicine Summer Student Research Program
Important COVID Advisory
Please note:
We are accepting applications for AI research projects that can be carried out either in-lab, remotely, or a combination of both.
Although we plan on holding our seminar series and mini-conference online, these events may be held in person depending on future public health directives.
In the event of lab shutdowns due to COVID, the studentship will be withdrawn unless the supervisor confirms that the student's research project can be carried out remotely. Supervisors will be required to return partial or full funding for projects that can't commence or continue remotely.  
---
Program Description
T-CAIREM is committed to funding the next generation of researchers in Artificial Intelligence (AI) in medicine. The goal of this program is to introduce undergraduate and medical students to AI research in health and encourage them to pursue careers that use AI to make biomedical discoveries, improve clinical care, and create better health outcomes. 
Twenty (20) summer studentships are available. Students who are accepted to the program will carry out summer AI research projects under the supervision of a T-CAIREM member. 
Students will be required to work full-time for a minimum of 10 weeks between May 2 and August 31, 2022. Specific start and end dates can be arranged directly with the hiring supervisor. This program does not cover part-time projects or projects that are less than 10 weeks long.    
Faculty supervisors must ensure that the students they're working with submit a one-page abstract of their research findings to the T-CAIREM Centre Administrator before the year-end mini-conference. The supervisor should also guide students on how to write a complete scientific abstract. 
Relevance to AI in Health
This funding program supports original research on the application of AI to biomedicine that could be published in biomedical journals and conference proceedings. Research proposals can include any aspect of basic science, clinical, or population research. Areas of research considered relevant to AI and health include the development of new algorithms, applying existing algorithms to new health problems, as well as work in AI ethics, governance, policy, patient engagement, and implementation science, among others. 
Supervisor Eligibility
Potential supervisors must be conducting AI research at the time of the application submission.
Potential supervisors affiliated with the University of Toronto must hold a faculty appointment at the level of assistant, associate or full professor. If potential supervisors don't have a U of T appointment, they must be either scientists or clinician scientists with a TAHSN-affiliated institution.
Potential supervisors must also be registered T-CAIREM members at the time of application submission. Faculty who are new to the field of AI in health research and are not already T-CAIREM members can join here. 
Potential supervisors may submit a maximum of two (2) applications. However, under normal circumstances, only one studentship will be awarded per supervisor. 
Students may not submit more than one application. 
Co-supervision is allowed, but for funding purposes, one supervisor must be designated as the primary supervisor who holds the funds.
Student Eligibility
This competition is not restricted to UofT students
Students from any Canadian university who are currently enrolled in an undergraduate or medical degree program or 
Students from a Canadian university who will complete an undergraduate or medical degree program in May 2022 (but not earlier) and will be enrolled in a graduate degree program commencing September 2022 (but not earlier)
International students currently enrolled in an undergraduate or medical degree program at any Canadian university are eligible for this program if they are legally allowed to work in Canada.  
Students Not Eligible to Apply
High school students. 
Students who will complete an undergraduate or medical degree program by January 2022. 
Students who are currently enrolled or will be enrolled in a graduate degree program by May 2022. 
Amount
Student stipends will be a minimum of $6,400 for the 10-week program. T-CAIREM will provide the supervisor's institution with $3,200. A minimum of $3,200 must be provided by the supervisor. 
Evaluation Criteria
Applications will be evaluated by the T-CAIREM Trainee Advancement and Development Committee according to the following criteria: 
the research project, including relevance to AI in health 
the training environment in which the student will carry out their research project 
the student's academic record 
special accomplishments or attributes relevant to the Summer Studentship application 
equity, diversity, and inclusion considerations.
The Application Process
Step 1 – Find a Potential Supervisor 
Students must contact potential supervisors directly to discuss the possibility of a summer research position. To help students find potential supervisors, we have compiled a PDF of faculty members who plan on having summer student positions available.
Step 2 – Submit an Application 
After the student has found a potential supervisor, the supervisor and student must jointly submit a completed application form to T-CAIREM by the deadline. Students may not submit more than one application. 
Step 3 — Notification
T-CAIREM will notify students and their supervisors in April 2022. Funding decisions will also be posted on this website. 
Application Form 
Please submit a completed application form by the deadline using the link below. A maximum of two (2) applications may be submitted by each potential supervisor. However, only one studentship will be awarded per supervisor under normal circumstances.
The application deadline HAS PASSED. Late or incomplete applications will not be considered. 
Other Terms
Successful students cannot accept more than one summer studentship regardless of the funding source. 
All selected summer students must attend a minimum of 75% of the seminars and are required to give a presentation of their work at the mini-conference. U of T medical students are also strongly encouraged to submit their work to MSRD. Failure to comply with the program's requirements will result in future ineligibility of both the student and supervisor for T-CAIREM's funding programs. 
Successful applicants must acknowledge support from the "Temerty Centre for Artificial Intelligence Research and Education in Medicine, University of Toronto" in relevant presentations and publications arising from the supported research. Failure to acknowledge this support will result in future ineligibility of both the student and supervisor for T-CAIREM funding programs. 
Previous Summer Research Studentships
Here are links to previous students who've participated in this program, along with their supervisors and summer research projects:
• 2021 Summer research studentships
• 2022 Summer research studentships
For more information
We held an information session in January 2022 to answer questions from potential applicants about this program. If you still have questions, you can watch the recording.
Dr. Laura Rosella
T-CAIREM Education Lead
Zoryana Salo 
T-CAIREM Centre Administrator