Join Us
Become a T-CAIREM member today!
T-CAIREM seeks energetic members who want to explore the terrain where data science meets medical research and practice.
We hope that members contribute their time and expertise to build training opportunities such as seminars, workshops, and symposiums for others. Our goal is to unite people across disciplines to build understanding and awareness about AI in medicine to solve novel health problems using data-driven tools. 
What does membership entail?
There is no specific time commitment that we require from members. All of our activities are voluntary.
Benefits of becoming a T-CAIREM member
Joining T-CAIREM gives members of all levels opportunities to participate in our summer research studentships, speakers series, activities, resources hub, and exclusive funding competitions. T-CAIREM members can also connect and interact with other AI in medicine researchers, clinicians, and students through the T-CAIREM Hive.
T-CAIREM Network
When T-CAIREM launched, membership was limited to the University of Toronto community, including researchers and clinicians with UofT-affiliated hospitals and research centres.
Due to the incredible enthusiasm we received from across Canada, we launched the T-CAIREM Network in 2022 to extend membership eligibility to researchers and students with our partner universities and affiliated institutions.
To see if you're eligible to join T-CAIREM, check out this list of universities and affiliated hospitals and research centres that are part of the T-CAIREM Network. (We're constantly updating our T-CAIREM Network partners, so please check back to see if your university or institution has been added.)
See the other institutions that are part of the T-CAIREM Network
How do I apply?
Membership in T-CAIREM is free and currently limited to learners, researchers and staff with the following partner universities and research institutes. 
Please register using an institutional email address in the T-CAIREM Hive. (Applications associated with personal emails can't be considered for membership at this time.)
The link below will take you to our exclusive community platform for AI in medicine research called the T-CAIREM Hive. By registering on the Hive with your institutional email, you'll become a T-CAIREM member. We look forward to seeing you in the Hive!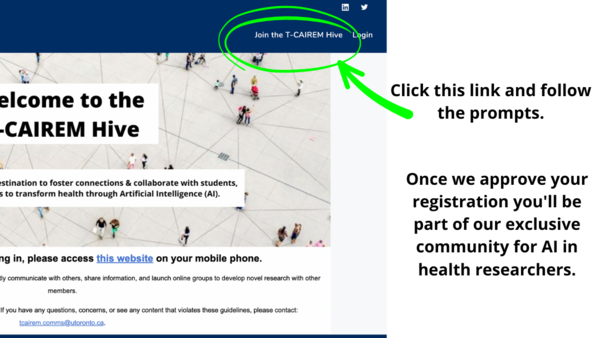 Visit this page (button below) and become a member by clicking the "Join" link on the welcome page and follow the prompts.
What if I don't qualify for membership with T-CAIREM?
Not ready to become a member or not eligible yet? No problem! Sign up for our mailing list and stay up to date with our upcoming public events. You can also follow us on LinkedIn and Twitter.
For more information
Please contact Zoryana Salo, T-CAIREM administrator.