Call for Faculty Supervisors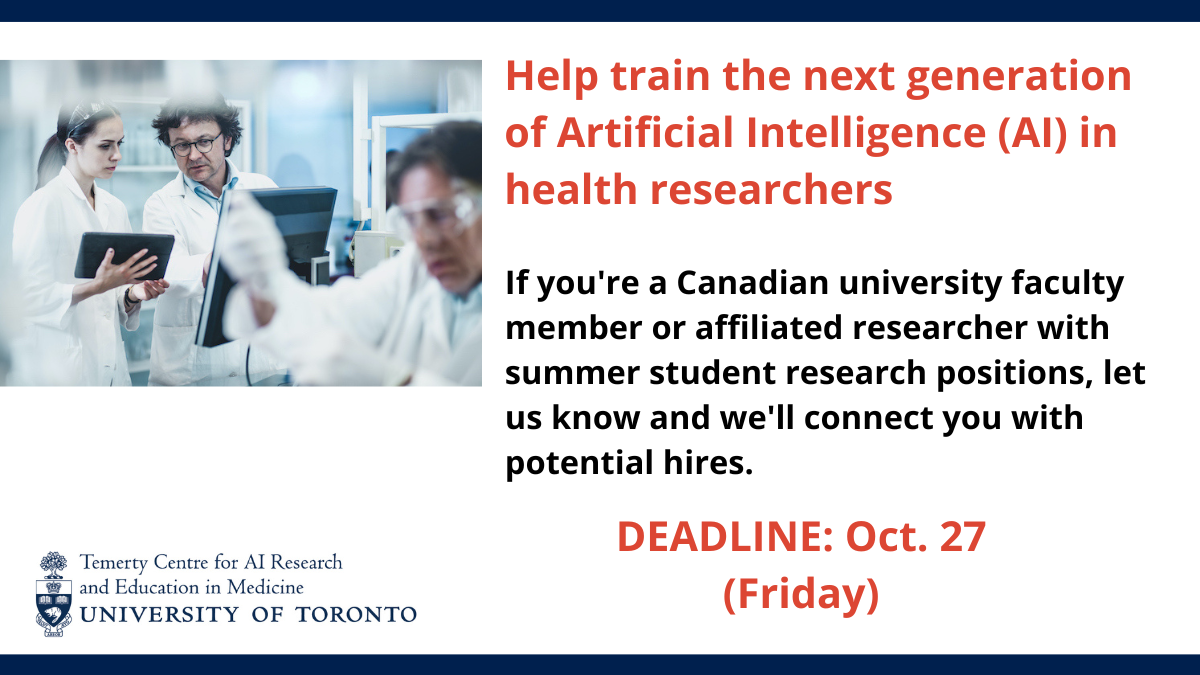 Faculty Supervisors needed for 2024 T-CAIREM Summer Research Studentship Program
The Temerty Centre for Artificial Intelligence Research and Education in Medicine (T-CAIREM) is seeking supervisors for the 2024 T-CAIREM Summer Studentship Program.
Information for Supervisors
UofT faculty and researchers with UofT-affiliated institutes or hospitals who may have positions available for summer research students are invited to complete this form:
Deadline: October 27, 2023 (Fri.)
Once the faculty supervisor applications are completed, we'll post a PDF of potential supervisors with project descriptions and e-mail addresses to the T-CAIREM website. This list will be updated as more supervisors register the availability of summer student positions. Students and supervisors will then jointly submit full applications by December 15, 2023.  
Supervisor Eligibility
• A potential supervisor must hold a faculty appointment with the University of Toronto at the level of assistant, associate or full professor, and must be conducting research in artificial intelligence (AI) related to health.
• We will accept applications for AI-related research projects that can be carried out either in-lab, remotely, or as a hybrid. 
• The supervisor must also be a registered T-CAIREM member when studentships begin. (Faculty who are new to health AI research can learn more about free T-CAIREM Membership on our website.)
• New for 2024: We're accepting faculty supervisors from T-CAIREM Network partners to apply to this year's program to supervise UofT students. A UofT faculty member will supervise students from any university across Canada.
Information about Research Projects
Student research may include the development of new algorithms, applying existing algorithms to new health problems (in the basic sciences, clinical, or population levels), as well as work in AI ethics, governance, policy, patient engagement, implementation science, and other areas.
Student Eligibility
• Summer studentships are available to undergraduate and medical students enrolled at a Canadian university to carry out summer research under the supervision of a T-CAIREM member.
• Students must be entitled to work in Canada.
• Students will be required to work full-time (35 hours per week) for a minimum of 10 weeks between May 1 and August 31.
• Students must be able to attend the biweekly seminars and a mini-conference at the end of the summer. 
Student Stipend
• Stipends for students will be a minimum of $7,200 for the 10-week program. T-CAIREM will provide the supervisor's institution with $3,600. A minimum of $3,600 must be provided by the supervisor.
• The supervisor is also responsible for any additional employment costs such as CPP, EI, vacation pay, etc. 
For questions, please contact T-CAIREM administrator Zoryana Salo.