Toronto Heath Datathon gives trainees hands-on experience with real-world datasets
Event marks debut of the T-CAIREM Health Data Nexus to develop machine learning models.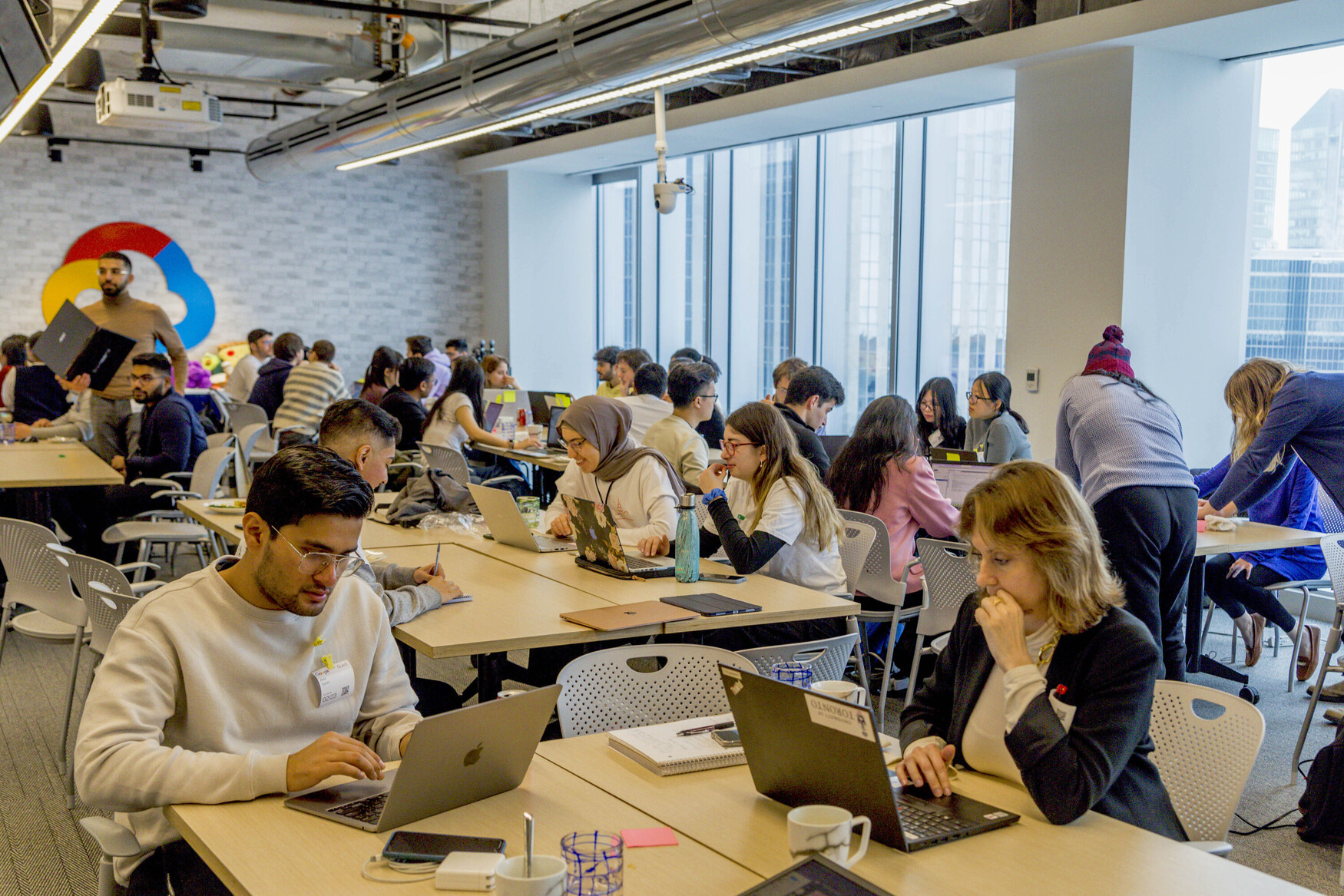 Canadian healthcare is already starting to see the effects of Artificial Intelligence (AI) on clinical decision-making, medical workflows, and patient care. To help train the next generation of AI health researchers and clinicians, T-CAIREM recently sponsored the Toronto Health Datathon.
More than 45 students, academics, clinicians, and professionals gathered at the Google Canada offices in downtown Toronto for the event.
The datathon marked the first-time anonymized real-world data from the T-CAIREM Health Data Nexus was used to develop machine learning models aimed at solving healthcare problems.
Datathon co-chair Eptehal Nashnoush, a University of Toronto master's student in management analytics, led the student committee organizing the datathon. "It was an amazing feeling to see so many participants registered for the event," she says. "We had been working on planning the event since July 2022, and seeing it sell out within the first few weeks of opening registration was truly surreal."
Participants were divided into six different teams and worked together over two days to develop and present a model to a panel of experts, including Leo Celi (Principal Research Scientist, Massachusetts Institute of Technology), Alistair Johnson (Infrastructure Co-Lead, T-CAIREM), and Helen Kontozopoulos (Co-Founder and Chief Technical Evangelist, ODAIA).
The data wranglers came from diverse backgrounds, including healthcare, finance, computer science, social science, and engineering. They were granted access to three datasets related to COVID-19 and electronic health records (EHR). The datasets encouraged the new researchers to explore a range of healthcare challenges and develop innovative solutions using data analytics and machine learning techniques.
"Health researchers collect a lot of data that sits idle, which could be used to improve patient well-being," says January Adams, T-CAIREM Data Governance and Quality Analyst. "Making this data more accessible to trainees and analysts from diverse backgrounds can go a long way towards improving healthcare for all."
The first-place team developed a machine-learning model to automate the detection of cervical spine fractures. Team members included Carolina Heming, Sammed Kamboj, Hardik Munjal, Anjola Adewale, Soomi Choi, Baris Aydemir, Natalie Won, Vikas Trivedi, and Jessica Tang.
Dr. Alistair Johnson, T-CAIREM Infrastructure Co-Lead, was instrumental in developing the Health Data Nexus (HDN). "This was a fantastic test of our platform and the datasets," he said. "Knowing that students, researchers and clinicians are working together across disciplines and using real data from our platform to improve healthcare in Canada is really rewarding." The HDN continues to accept health datasets from researchers who want to share their work with others.
In addition to the datathon, there was also a panel discussion sponsored by the Vector Institute featuring Felipe Perez (VP of Machine Learning at Signal 1), Andrea Doria (Vice Chair of Radiology, Clinical Practice Improvement, University of Toronto), and Young Lee (Vice President, Digital Health Innovation & Chief Financial Officer, North York General Hospital).
The event inspired many of the participants, like UofT resident physician Dr. Jethro Kwong, to think about the future of his profession. "We are already witnessing some exciting developments with AI benefiting patients," he says. "As its use in healthcare becomes more widespread, it will be important for physicians to understand its benefits and limitations, and how it can best be integrated into their clinical practice while still delivering compassionate care."
---
For more Datathon photos, visit the T-CAIREM Hive: https://tcairemhive.ca/topics
If you have a University of Toronto UTORid, you can try the Health Data Nexus today: 
https://healthdatanexus.ai/