Temerty Centre Speaker Series: Dr. Peter Lee, Microsoft VP of Research & Incubations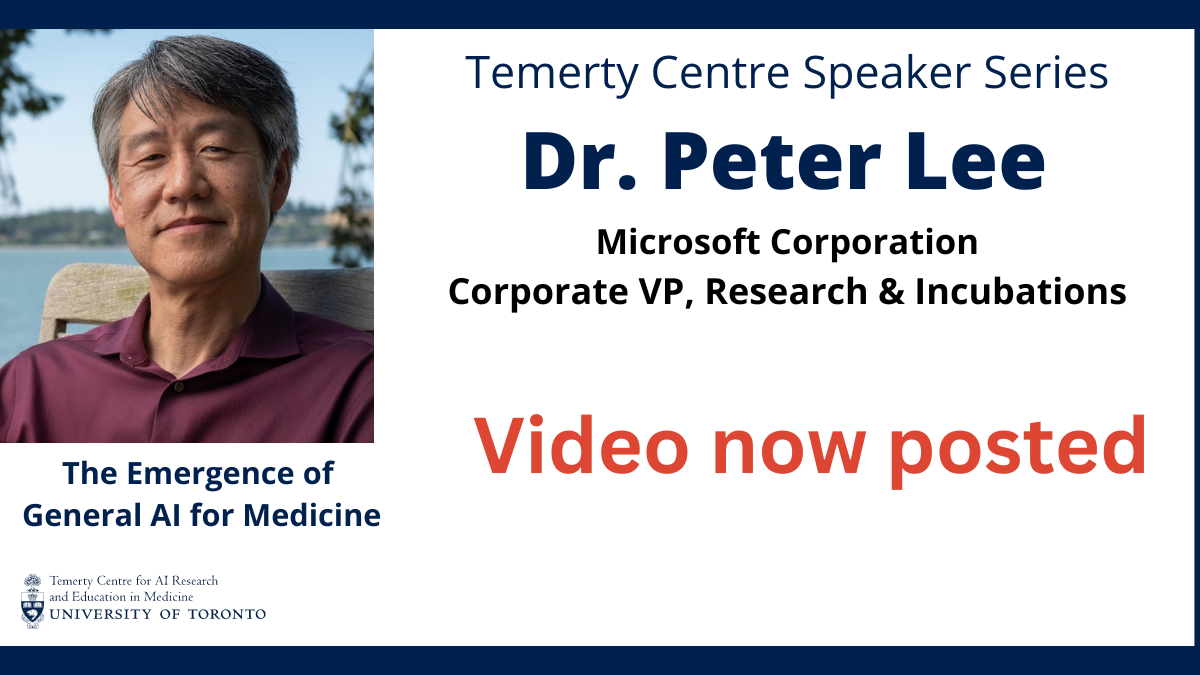 We're delighted to host Dr. Peter Lee, Corporate Vice President, Research and Incubations, with Microsoft.

The title of the talk is The Emergence of General AI for Medicine.

This event has passed, but you can view the recording on YouTube.
---
The Emergence of General AI for Medicine
Large language models, such as GPT-3.5 and later more powerful ones, have emerged as powerful new tools for information work, particularly when coupled with chat interfaces as in Chat-GPT. These systems are demonstrating impressive capabilities across many domains, and they have the potential to improve health-care delivery and accelerate medical science. In this talk, we will present the results of our intensive year-long study exploring the benefits and risks of applying these systems in medicine. Our findings indicate that these systems may be the most significant technological advance in health care and medicine to date, despite receiving no specialized training in the field. We will showcase examples of how general AI can be used in health care and medicine, and then discuss the implications for the future as these systems continue to evolve, becoming increasingly more intelligent and capable.
Learning objectives
Update on the state of the art of large language models and their application to medicine.
About Dr. Peter Lee
Dr. Peter Lee is Corporate Vice President, Research and Incubations, at Microsoft. He leads Microsoft Research across its nine laboratories around the world. He also oversees several incubation teams for new research-powered lines of business, the largest of which today is Microsoft's growing healthcare and life sciences effort. Dr. Lee has extensive experience in managing fundamental research to commercial impact in a range of areas, spanning artificial intelligence, to quantum computing, to biotechnology, and more. Before joining Microsoft in 2010, he was at DARPA, where he established a new technology office that created operational capabilities in machine learning, data science, and computational social science. From 1987 to 2005 he was a Professor at Carnegie Mellon University, and from 2005 to 2008 the Head of the university's computer science department. Today, in additon to his management responsibilities, Dr. Lee speaks and writes widely on technology trends and policies. He is a member of the National Academy of Medicine. He serves on the Boards of Directors of the Allen Institute for Artificial Intelligence, the Brotman Baty Institute for Precision Medicine, and the Kaiser Permanente Bernard J. Tyson School of Medicine. In public service, Dr. Lee was a commissioner on President Obama's Commission on Enhancing National Cybersecurity and led several studies for both PCAST and the National Academies on the impact of federal research investments on economic growth. He has testified before both the U.S. House Science and Technology Committee and the U.S. Senate Commerce Committee.