Meet Gemma Postill and Abhishek Moturu, T-CAIREM's New Student Education Co-Leads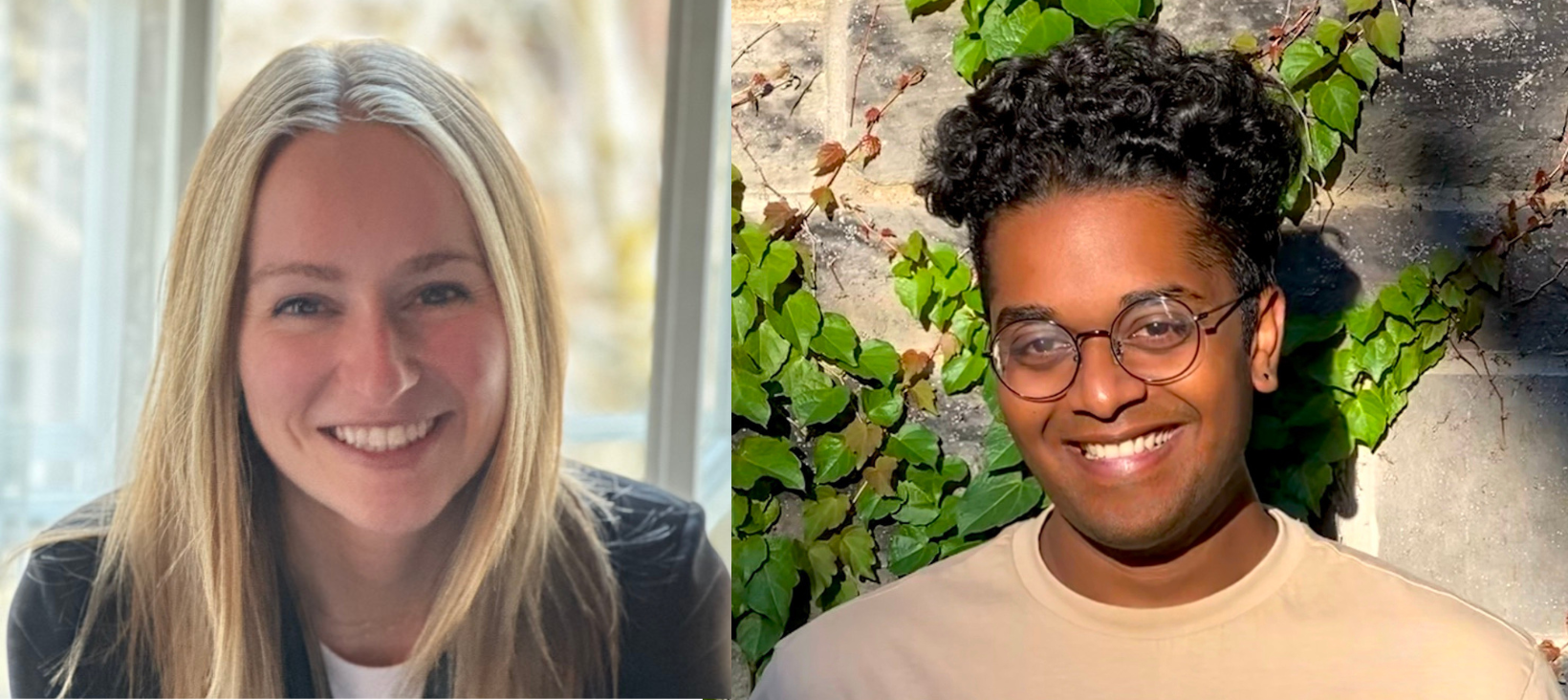 Gemma Postill and Abhishek Moturu are the new T-CAIREM Student Co-Leads! The co-leads will help guide T-CAIREM's training initiatives for the next generation of researchers and clinicians specializing in AI in medicine.
Gemma Postill
Gemma Postill is currently enrolled in the second year of the MD/PhD program at the University of Toronto where she is studying for a PhD in clinical epidemiology.
She was inspired to enter the program in the early phases of the COVID-19 pandemic. She'd been invited by a research team to submit a weekly analysis that would advance the monitoring of real-time all-cause mortality.
"I experienced first-hand that, if captured and analyzed appropriately, digital health data can lead to real-time population health insights, which in turn can expedite care improvements," she says.  
Gemma expects to complete her program in 2028, and is currently using population health data, geospatial analysis, and machine learning to study both how and why rurality influences trauma outcomes in Canada. 
So what is she hoping her studies will lead to? "My ultimate career goal is to become a surgeon-scientist, specializing in delivering acute care. And I plan to be a mixed method researcher, leveraging artificial intelligence, geospatial analyses, and qualitative approaches to identify how and why where we live influences health outcomes."  
Learn more about Gemma's research on Google Scholar. 
Abhishek Moturu
"I would like to help bridge the gap between the practitioners of AI and the practitioners of medicine," says third-year computer science PhD student Abhishek Moturu.
Abhishek is well on his way to completing his doctorate in 2025, and has affiliations with the Vector Institute, the Hospital for Sick Children, and UHN's KITE Research Institute.
Abhishek completed his bachelor's and master's degrees at the University of Toronto and applied for this role because he admired T-CAIREM's multidisciplinary approach to supporting trainees from various backgrounds. 
Abhishek's research interests include developing multi-institutional machine learning algorithms for problems in healthcare and medical imaging, with a focus on example difficulty, active learning, and federated learning. He aims to develop explainable diagnostic tools that help clinicians enhance patient outcomes.
"Healthcare-based AI is a rapidly evolving field," says Abhishek. "And I am committed to developing collaborative, innovative AI methodologies that can help improve patient outcomes and increase access to quality healthcare for all. My goal is to become a scientist and pursue interdisciplinary research combining my expertise in machine learning with my passion for healthcare and medicine."
Learn more about Abhishek on Google Scholar and LinkedIn.