2022 T-CAIREM Summer Studentships announced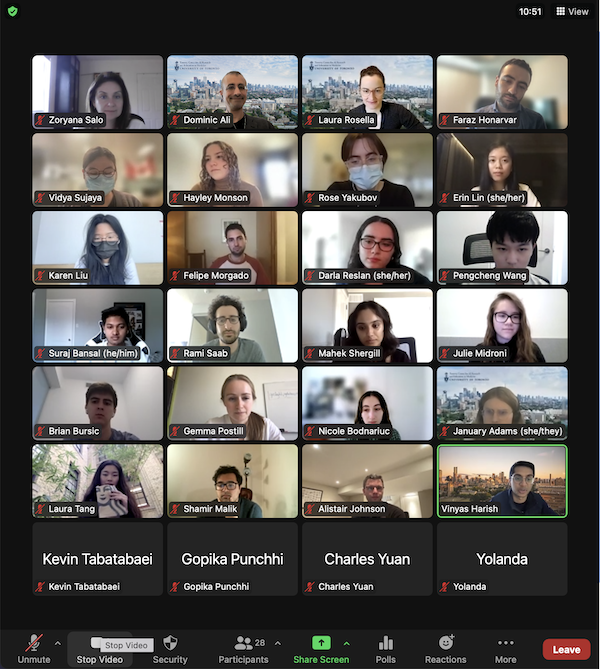 We're delighted to welcome the 20 learners from universities across Canada who've been selected to participate in T-CAIREM's annual Summer Research Studentship program.
This program introduces undergraduate and medical students to the field of AI in healthcare and encourages students pursuing careers in healthcare-related fields to leverage AI to improve clinical care and patient health. 
Here are the research projects they'll be working on. 
• Suraj Bansal (Undergraduate, McMaster University)
A cloud-based bioinformatics pipeline for transcriptomic meta-analysis in blood development and leukemia
Supervisor(s): Dr. John Dick
Institution: Princess Margaret Cancer Centre
• Nicole Bodnariuc (MD program, University of Toronto)
Development of an early warning system for tumour recurrence and progression in non-muscle invasive bladder cancer patients using time-series forecasting with artificial intelligence
Supervisor(s): Dr. Girish Kulkarni and Dr. Jethro Kwong
Institution: Princess Margaret
• Brian Bursic (MD program, University of Toronto)
Natural language processing for stroke diagnostic imaging data collection
Supervisor(s): Dr. Amy Yu and Dr. Moira Kapral
Institution: Sunnybrook Health Sciences Centre, UHN
• Faraz Honarvar (MD program, Queen's University)
Using AI to Predict Carotid Disease from Neurological MRI
Supervisor(s): Dr. April Khademi
• Erin Lin (Undergraduate, McMaster University)
Application and Accuracy of Machine Learning to Predict Neurological Deterioration in Critically Ill Patients
Supervisor(s): Dr. Victoria McCredie
Institution: UHN
• Karen Liu (Undergraduate, University of Toronto)
Identifying 'blind spots' of current computational predictors of missense variant function
Supervisor(s): Dr. Frederick Roth
Institution: Sinai Health
• Shamir Malik (MD program, University of Toronto)
Development of an early warning system for tumor recurrence and progression in non-muscle invasive bladder cancer patients using time-series forecasting with artificial intelligence.
Supervisor(s): Dr. Girish Kulkarni and Dr. Jethro Kwong
Institution: Princess Margaret Cancer Centre, UHN
• Julie Midroni (Undergraduate, University of Toronto)
Predicting radiotherapy toxicity in lung cancer using deep learning applied to pretreatment computed tomography
Supervisor(s): Dr. Srinivas Raman
Institution: Princess Margaret Cancer Center

• Hayley Monson (Undergraduate, McMaster University)
Application of artificial intelligence algorithms for classification of inflammatory mediators in various ocular diseases
Supervisor(s): Dr. Efrem Mandelcorn and Dr. Tina Felfeli
Institution: Toronto Western Hospital
• Gemma Postill (MD/PhD program, University of Toronto)
Applying deep learning methods to understand multimorbidity in the population
Supervisor(s): Dr. Laura Rosella
Institution: Dalla Lana School of Public Health
• Gopika Punchhi (MD program, University of Toronto)
Using machine learning to predict liver transplantation (LT) waitlist outcomes and overall survival in Non-alcoholic Steatohepatitis (NASH) cirrhosis candidates
Supervisor(s): Dr. Mamatha Bhat
Institution: Ajmera Transplant Program, UHN
• Darla Reslan (Undergraduate, University of Toronto)
Building Fair Machine Learning Models: Using Big Data to Explore Inequities in Risk Assessment at the Centre for Addiction and Mental Health
Supervisor(s): Dr. Laura Sikstrom and Dr. Sean Hill
Institution: Krembil Centre for Neuroinformatics, CAMH
• Rami Saab (MD program, University of Toronto)
Machine learning assisted swallowing assessment (MASA)
Supervisor(s): Dr. Houman Khosravani
Institution: Sunnybrook Health Sciences
• Mahek Shergill (Undergraduate, McMaster University)
Developing and Evaluating Tools to Mitigate Bias in Machine Learning Applications in Public and Population Health
Supervisor(s): Dr. Andrew Pinto
Institution: The Upstream Lab, St. Michael's Hospital
• Vidya Sujaya (Undergraduate, McGill University)
Natural Language Processing-Based Conversational Therapy for Smoking Addiction
Supervisor(s): Dr. Jonathan Rose
• Kevin Tabatabaei (McMaster University)
 Transfer learning in pharmacogenomics: domain adaptation of pre-clinical cancer models to match patients with therapies in the clinic
Supervisor(s): Dr. Benjamin Haibe-Kains and Dr. Christopher Eeles
Institution: Princess Margaret Cancer Center
• Laura Tang (MD program, University of Toronto)
 A Machine Learning Approach to Transplantation - Evaluating the Impact of Acidosis During Ex Vivo Lung Perfusion
Supervisor(s): Dr. Shaf Keshavjee and Dr. Bo Wang
Institution: Toronto General Hospital
• Pengcheng Wang (Undergraduate, University of Toronto)
Clinical Benchmark Dataset
Supervisor(s): Dr. Alistair Johnson
Institution: The Hospital for Sick Children
• Rose Yakubov (Undergraduate, McMaster University)
 An AI-based approach to identify magnetic resonance imaging signatures of trigeminal neuralgia in multiple sclerosis
Supervisor(s): Dr. Mojgan Hodaie
Institution: Toronto Western Hospital
• Charles Yuan (Undergraduate, University of Toronto)
Identification of the Femoral Artery and Surrounding Tissue for AI-
guided Needle Insertion.
Supervisor(s): Dr. Lueder Kahrs and Dr. Yu Sun