2021 T-CAIREM Summer Research Studentships announced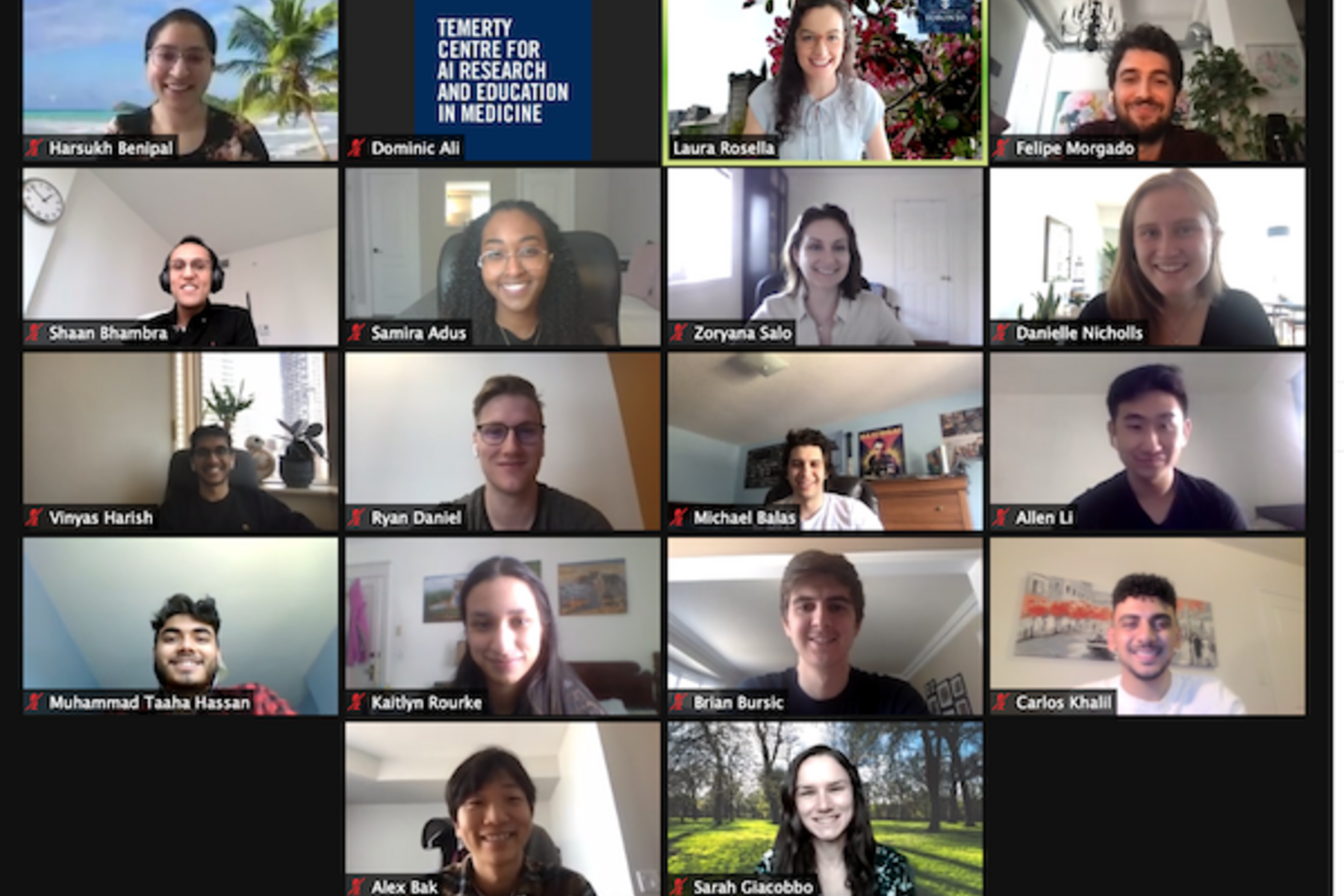 Earlier this year T-CAIREM launched its inaugural 2021 AI in Medicine Summer Research Studentship program. This program is intended to introduce undergraduate and medical students to AI in healthcare. We hope to encourage students to pursue careers in healthcare and related fields to leverage AI in biomedical discoveries that improve clinical care and patient health outcomes. 
We're pleased to announce that 14 university students from across Canada were selected to work with a faculty supervisor. The studentships will run from May until the end of August.
• Samira Adus
Current program: MD, University of Toronto
Placement (Supervisor): St. Michael's Hospital (Andrew Pinto)
Research topic: Exploring multiple perspectives on how patients can and should be involved in the development of guidelines for patient engagement in artificial intelligence (AI) health research
• Alex Bak
Current program: MD, University of Toronto
Placement (Supervisor): Krembil Research Institute (Michael Fehlings)
Research topic: Using a machine learning approach to predict neurological recovery after severe traumatic spinal cord injury
• Harsukh Benipal
Current program: MD, University of Toronto
Placement (Supervisor): University of Toronto (Bo Wang)
Research topic: High-dimensional data and machine learning for cardiovascular risk prediction
• Michael Balas
Current program: MD, University of Toronto
Placement (Supervisor): Prism Eye Institute (Matthew Schlenker)
Research topic: Using Artificial Intelligence to evaluate cataract surgery performance
• Nishaant Bhambra
Current program: MD, McGill University
Placement (Supervisor): St. Michael's Hospital (Rajeev Muni)
Research topic: Neural networks for identifying retinal vasculature changes post detachment surgery
• Brian Bursic
Current program: MD, University of Toronto
Placement (Supervisor): The Hospital for Sick Children (Clyde Matava)
Research topic: Reducing harm in patients with difficult airway using machine learning
• Ryan Daniel
Current program: MD, University of Toronto
Placement (Supervisor): The Hospital for Sick Children (Devin Singh)
Research topic: Machine learning to automate detection of paediatric papilledema from ocular point-of-care ultrasound
• Sarah Giacobbo
Current program: MD, University of Ottawa
Placement (Supervisor): Toronto General Hospital (Kathryn Tinckam)
Research topic: Removing human bias from antibody analysis: application of machine learning of donor specific antibodies in solid organ transplant
• Muhammad Taaha Hassan
Current program: BHSc, McMaster University
Placement (Supervisor): Centre for Addiction and Mental Health (Etay Hay)
Research topic: Algorithms for deriving brain microcircuit connectivity in health and depression
• Carlos Khalil
Current program: MD, University of Toronto
Placement (Supervisor): Sunnybrook Health Sciences Centre (Antoine Eskander)
Research topic: Thyroid malignancy prediction with deep learning

• Allen Li
Current program: MD, University of Ottawa
Placement (Supervisor): University Health Network (Thomas Forbes)
Research topic: Development of an Artificial Intelligence tool to improve safety and effectiveness of endovascular abdominal aortic aneurysm repair
• Danielle Nicholls
Current program: MD, University of Toronto
Placement (Supervisor): Princess Margaret Cancer Centre (Benjamin Haibe-Kains)
Research topic: The relationship between pathological and radiological features identified through NLP in resected early stage non-small cell lung cancers and progression-free and overall survival
• Kaitlyn Rourke
Current program: MD, Queen's University
Placement (Supervisor): The Hospital for Sick Children (Alistair Johnson)
Research topic: Optimizing fluid de-resuscitation for septic patients in intensive care units
• Thomas Samson
Current program: BSc, Wilfrid Laurier University
Placement (Supervisor): University Dalla Lana School of Public Health (Laura C. Rosella)
Research topic: Operationalizing effective and responsible governance in partnerships with private technology companies as part of the COVID-19 response in Canada – a qualitative study